The Cauliflower Hotel kitchen is open seven days a week. Offering a mouthwatering mix of South American inspired, Australian and traditional pub fare, The Cauliflower has several indoor and outdoor areas where you can sit back with a beer or a glass of wine, and enjoy a relaxing lunch or dinner.
Keep an eye out for our specials such as Sunday Roasts – for just $18! and our Monday to Friday $12 lunch specials.
Check out our food menu and come in for some of the best pub food in Inner Sydney.
Want to download our menu? Download PDF here.
Mondays
$12 Rump Steak, 200g
12-9pm | served w/ chips, salad & gravy
Tuesdays
$12 Pasta Of The Week
12-9pm

Wednesdays
Taco Night – $5 Tacos
(minimum 2, 12-9 p.m.)
Thursdays
$12 Burgers (w. fries)
$8 Pints
(12-9p.m.)
Fridays
$12 Chick. Schnitzels
Add $3 for Chicken Parmy.
(12 – 3 p.m.)
Saturdays
$1 Wings
(minimum 10, 12 – 5 pm.)
Sundays
Sun All-Day
$18 Roast Of The Day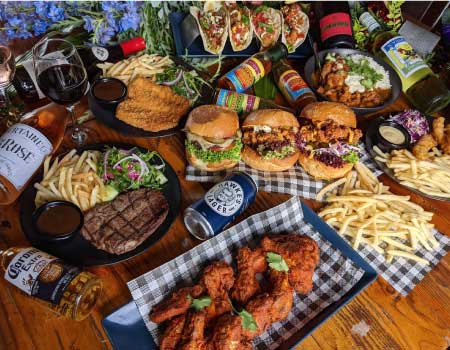 $12 Specials
Mon: Steak (w. chips, salad, gravy)
Tue: Pasta Of The Week
Wed: $5 Tacos (min. 2)
Thu: Burgers (Cheese Burger|Southern Fried Chicken | Veggie Lovers)
Fri: Chicken Schnitzel (+$3 Parmy)
The Cauliflower Hotel offers a vast and delicious range of beers, wines and spirits. This includes craft beers and a variety of cocktails.
For those looking for more, there is also our specialty rooftop gin, rum and cocktail bar – The Forgotten Cask.
Whether you're after a beer jug to share with our delicious Sunday roasts, or need to unwind for our Thursday night $7 Pints Happy Hour, The Cauliflower Hotel is sure to appeal to all tastes. This is why The Cauliflower Hotel is your next destination when you want to hang out with friends, go out for a quiet drink or arrange your next function or event.
Check out our drinks menu, and find out what's going on @ The Cauliflower Hotel, and you will never be short for things to do in Sydney.
Do you want to have our menu on hand? Download Food and Drink Menu HERE.